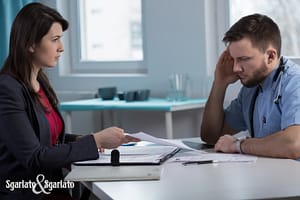 Giving birth to a defective child can be a very frustrating situation as parents of defective children live with the outcome for a lifetime. And most times, depending on the severity of such congenital disabilities, it can negatively affect how parents interact with their children.
In these cases, parents of such children can file a claim of wrongful birth against healthcare professionals or the hospital at which they gave birth, provided they were not informed about any defects on the child before giving birth.
What is wrongful birth?
Wrongful births occur when a doctor fails to diagnose a child with congenital abnormalities (abnormalities from birth) before child delivery which largely reduces the child's life quality. Of course, birth defects could be a result of birth complications or genetic abnormalities.
However, suppose this piece of info wasn't effectively communicated on time, which would have prompted the child's mother to terminate the pregnancy when it was just a fetus. In that case, it could result in wrongful Birth Claims Against Doctors.
Cases where wrongful birth may occur:
1. Failing to warn against any disability before childbirth
Another case is where negligent treatment occurs as a result of the doctor not specifying or diagnosing such situations during pregnancy.
During the first trimester of pregnancy, scans and tests are carried out, and at this time abnormalities can be picked up. Then again, this is up to the doctor to discuss the potential threat of such situations to the parents to decide if they wish to carry on with the pregnancy given its possible consequences or terminate it.
In cases where the parents are not informed to make a decision, and the child goes ahead to be born, the parents of such child can file for wrongful birth, and if they succeed, they are eligible for a child upbringing compensation plan.
2. Failed vasectomy or failed sterilization
Unwanted and unplanned pregnancies could result from a failed sterilization or vasectomy from negligent or substandard treatment. In such cases, the child would not be conceived in the first place if the treatment were of acceptable standards. As such, wrongful birth Claims can be filed against the doctor or hospital.
Verdict and possible compensation
In cases where a child is born out of failed sterilization or failed vasectomy, the parents will not be compensated for the cost of upbringing. However, the claim could include any financial losses incurred during the unwanted pregnancy and childbirth.
Also, the child's parents can file for any emotional distress or pain inflicted due to birthing such a child.
Should you hire an attorney?
Wrongful birth claims can be very complex, and if not correctly handled, parents can go on to live with the unwanted situations without any legal Vindication. We understand the complexity of such cases, which is why our expert attorneys have a wealth of experience in wrongful childbirth claims and are ready to help you every step of the way. You can go ahead and give us a call 718-273-7900 or fill out our contact form.